AquiMax® Improves Trunk Diameter, Tree Height Yield, and Brix of Orange Trees
This four-year-long study was conducted on newly planted Valencia oranges to investigate how AquiMax influences citrus tree development from planting through fruit-bearing.  The goal was to learn whether AquiMax enhances citrus tree development, could provide water efficiency, and improve yield.
Test Year:
Location: 
Crop:
Soil type: 
Test Set up: 
Test duration:
2016
SynTech Research, Sanger, CA
Valencia Oranges for Juice
Sandy Loam
Randomized Complete Block Design with 6 Replications
Four years
A study was established on newly-planted Valencia orange trees grafted onto lemon tree stocks in summer of 2016. AquiMax was injected into a micro-sprinkler irrigation system, which was randomized so that experimental treatments were applied individually to single trees. Trees were watered to replace either 100% or 70% of water lost through evapotranspiration (ET). AquiMax was applied on August 10th and August 26th at a rate of 1 gal/ac.
 Performing replicated research with advanced technology requires a complex network of micro-sprinkler lines to ensure that treatments are applied individually to each tree through chemigation process.
Trunk diameter was measured prior to treatment application, and again at the end of the season. The AquiMax-treated trees had a larger percentage increase in trunk diameter and tree height after one season of applications. 
These orange trees have been followed from their planting date in October 2015 through the 2020 growing season. The AquiMax treatments have been applied twice each season.  In season three and four, the trees provided enough fruit for harvest. During harvest, amount of fruit, fruit size, °Brix, and ROI were measured.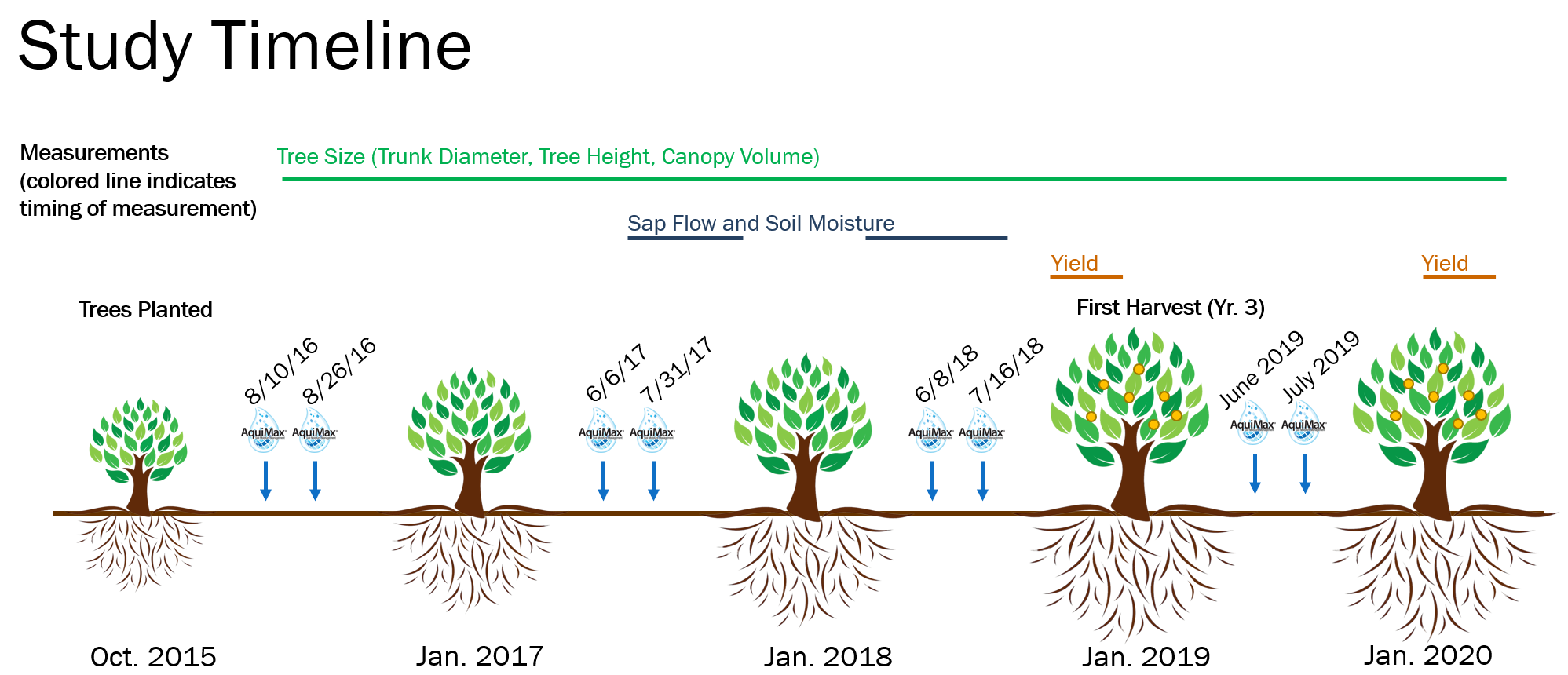 Results: Increased Trunk Diameter and Tree Height
After applying AquiMax for two summers in the citrus orchard, the differences between the treated and untreated trees are obvious. AquiMax affected both the tree trunk diameter and the height of the tree, showing it aided in a fast establishment of the trees. Even if less water was used the trees grew larger than the trees without AquiMax treatment.
Application of AquiMax on Valencia Orange Trees:
Trunk diameter Increased 5% more at 100% evapotranspiration replacement.

Tree height increased 13% more at 70% evapotranspiration replacement.
Increased Trunk Diameter at 100% Evapotranspiration Replacement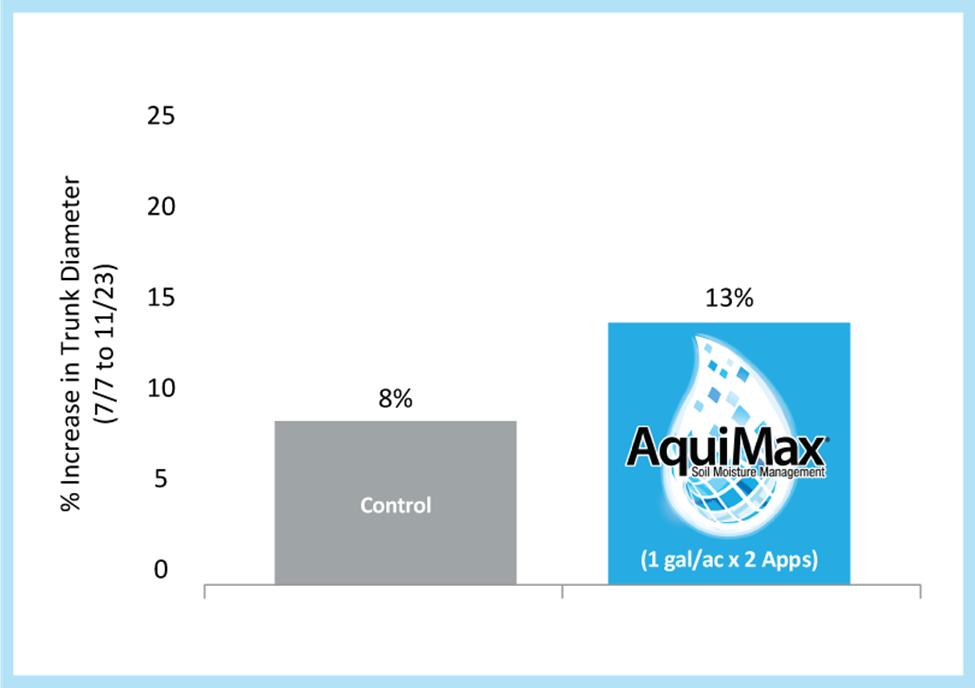 Increased Tree Height at 70% Evapotranspiration Replacement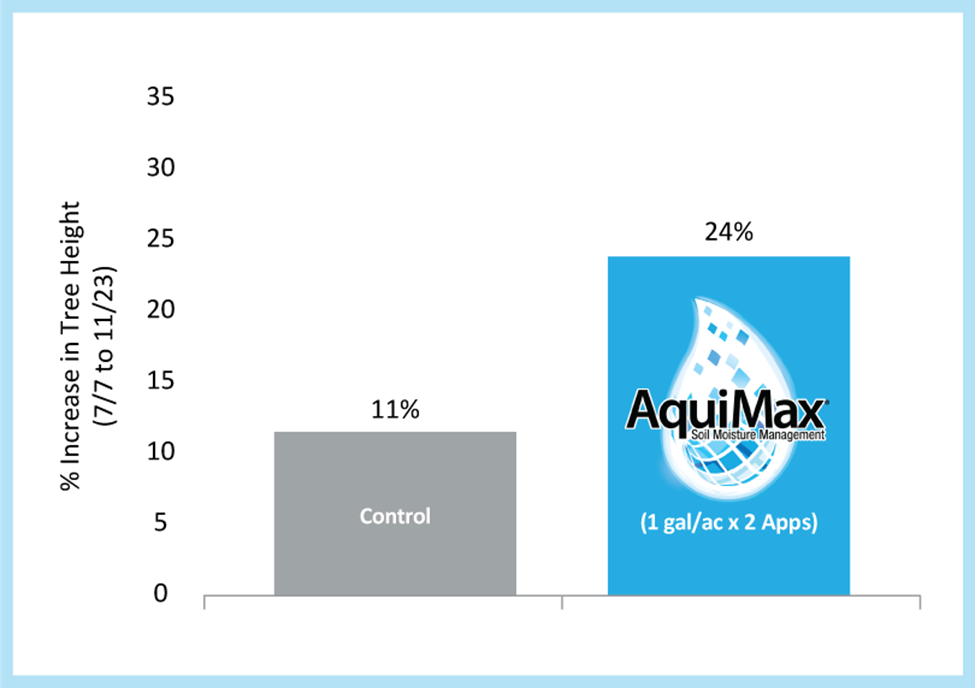 AquiMax Benefits in Newly Planted Citrus Orchards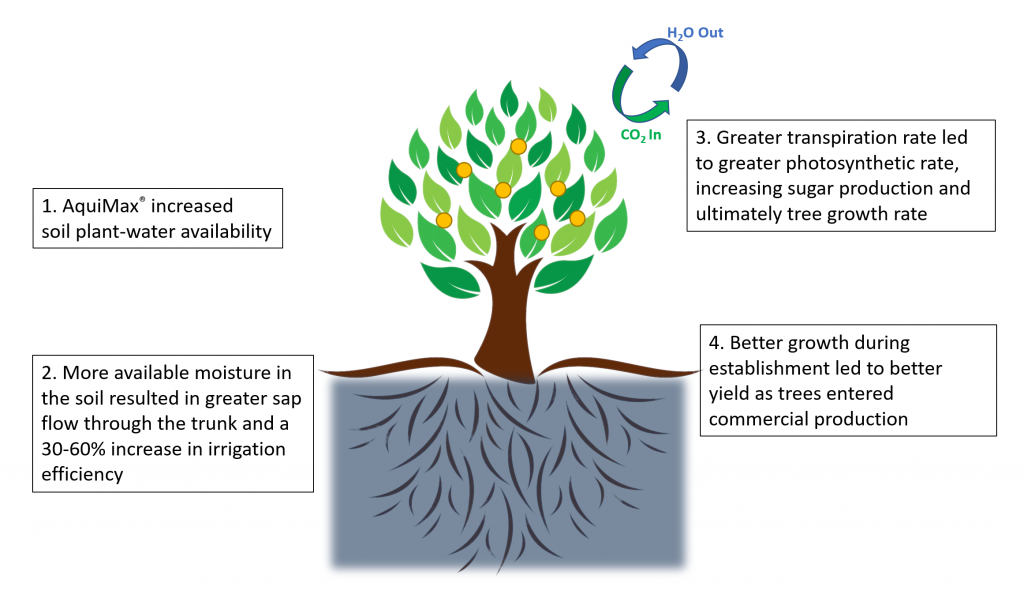 Results: Increased Yield and °Brix While Saving Water
Once the young trees produced enough fruit to harvest, during the years three and four,  the trees treated with AquiMax showed increased fruit production, °Brix, and yield. Trees treated with AquiMax delivered a positive ROI per acre while still providing an increased water efficiency. Adding AquiMax to newly planted trees can help improve yield, deliver higher quality fruit, and save water leading to a positive ROI for citrus growers.

Adding AquiMax to newly planted trees establishes young trees faster, leading to improved yield with higher quality at the beginning of commercial production.
Interested to learn more?
Complete the form and we will be in touch!
By submitting your contact information, you agree to be added to our mailing list. Don't worry, you can unsubscribe at any time. View our Privacy Notice.