AquiMax® Improves Yield and Economic Value of Potato Production
The effects of AquiMax in irrigation have been tested on a broad range of crops, including potatoes.  This test with AquiMax was performed on potatoes grown on loamy sand. The results show that the application of AquiMax increases both the yield per acre and the economic value for both processed and fresh potatoes.
Potato Yield and Economic Value Research Set Up
Test Year:
Location: 
Crop:
Soil type: 
Test Set up: 
 2015
Miller Research, Aquecia, ID
Russett Burbank Potatoes
Loamy Sand
Randomized Complete Block Design with 4 Replications
AquiMax irrigation technology was applied through a simulated linear overhead irrigation system. AquiMax was applied at the time of tuber initiation and then two weeks later at a rate of 1 gal/ac. The applications were made prior to stress periods to avoid drought stress during important physiological stages of the potato's development.
Potato Yield and Economic Value Results
In this field trial, AquiMax improved the yield per acre and economic value for both fresh and processed potatoes compared to the untreated acres. An increased concentration of NO3 and potassium was found in the leaves on August 7th, suggesting that AquiMax improved the health of the plants during the growing season. 
Application of AquiMax to an irrigated potato field:
Improved yield by 27 cwt per Acre

Improved economic value of the crop by 

$471/ac for processed potatoes

$800/ac for fresh potatoes

Increased the concentration nutrients in the leaves in August
Increased

Market Value for Processed ($471/ac) and Fresh Potatoes ($800/ac)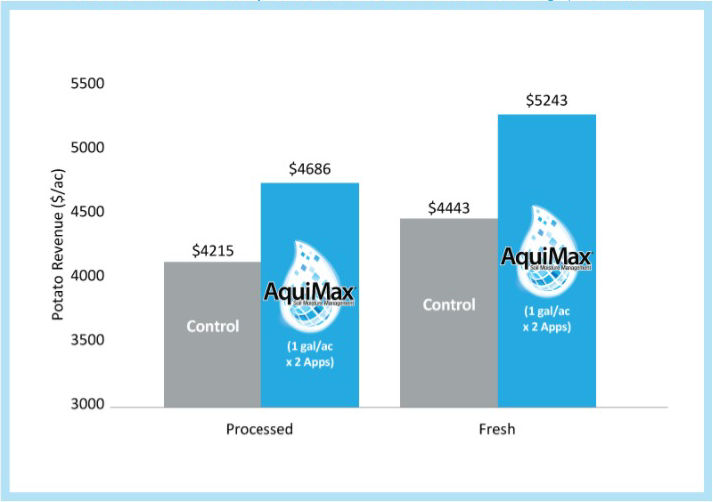 10% Increase in Petiole Nitrate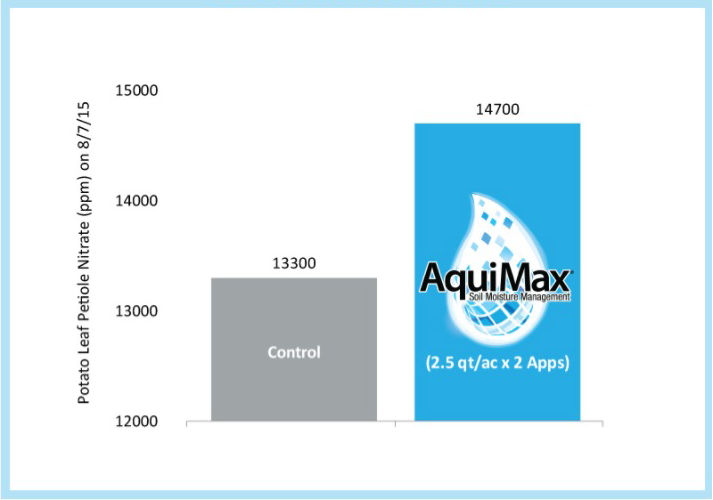 Interested to learn more?
Complete the form and we will be in touch!
By submitting your contact information, you agree to be added to our mailing list. Don't worry, you can unsubscribe at any time. View our Privacy Notice.